When Bernard is not sitting on a chair, he sure is playing tennis...
Since 2000, he is the captain of the Belgian
Italia Cup
team, the National +35 team, playing the world cups in Argentina (2000), Austria (2001) and Germany (2003).
He is the 2003 National +35 doubles champion, teaming up with Morgan Tircher.
He was ranked nr. 24 in the world (9th European) in the +35 age category (July 2004)
In 2006, in the +40 age group, Bernard won his first international seniors singles titles in Portugal (Copa Ibérica 1) and Turkey (Völkl Ali Bey Seniors Open). Another title followed in autumn 2007 in Woking (London) in the +35 age group.
Follow Bernards international results week by week
Practising with Roscoe Tanner in Llafranc (Spain) in 2003
Supporting the Belgian Davis Cup team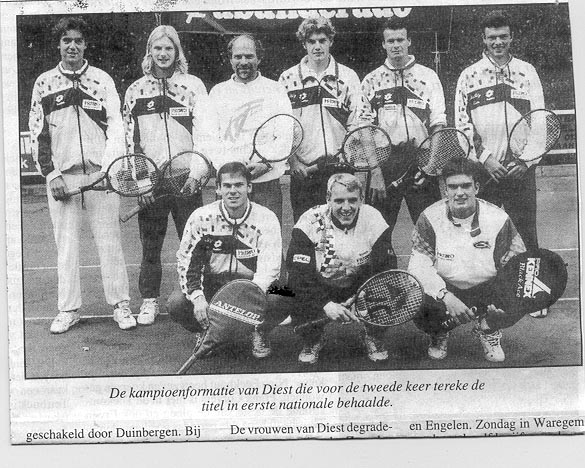 Becoming National team Champion with TC Diest